Paulina's was named in honour of the original owner of the property, Paulina de Villiers.
She was one of the first lady landowners in South Africa and loved the land she tamed and planted. Paulina spent many years nurturing crops and working the same soils you see on the estate today. To pay respect to Paulina, and the land, the restaurant team is supporting local producers and farmers, just the way Paulina would have.
Take a seat on the terrace with magnificent vineyard and mountain views or cosy up in front of the fireplace in the colder months, while sipping on a glass of fine wine. The full range of award-winning Rickety Bridge wines is available to complement your lunch. Taste your way through the ranges at the Wine Tasting Centre or follow the suggested wine pairings on the menu.
A carefully selected menu has been created to delight the little ones, as well.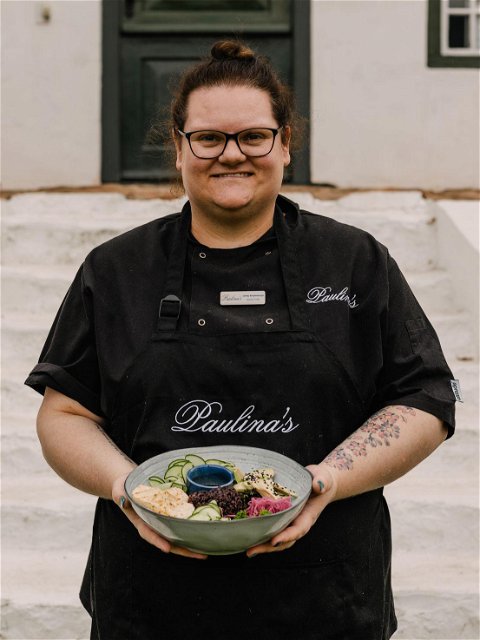 Meet the Chef
Linnèy Breytenbach
As a young girl, my journey into the culinary world started with the traditional Sunday lunches that were so popular in South African households. On holidays these feasts grew even bigger, we would plan meals long before the holidays started, which meant that every night the entirety of the family would spend hours prepping ingredients and making food. A lot of time was spent in the kitchen during these holidays and it caused a subconscious connection between food and time with family. Meals like these brought the family together.
I started my professional training at Warwick's Chef Training School in Hermanus and also at Prue Leith Culinary Institute. I was able to gain valuable experience working for Creation Wines after my studies. Since then I have enjoyed the rush of the kitchen, whether a fully packed restaurant, an event or a wedding being in the kitchen preparing meals feels like home. Even with the rush of the kitchen team, the heat of the ovens and fire, and the constant pressure of getting plates out, I can still add a bit of creativity to my dishes. When asked what my favourite part of being a Chef is, it would have to be the opportunity to work with fresh produce and also finding a place in the dishes for some more unknown ingredients.
At the moment I am Head Chef at Paulina's Restaurant at Rickety Bridge in the heart of Franschhoek. I manage a team of chefs with great potential and together we serve meals for guests of the restaurants, private functions, tour groups, and weddings. At Paulina's Restaurant, you can take a seat that overlooks the manicured Rickety Bridge vineyards. Sip a glassful of crisp estate wine and enjoy delicious lunch offerings while taking in the splendour of the magnificent surroundings of Franschhoek. Every creation from the team of chefs is given extra zest by the striking beauty of the setting and stunning views of the Franschhoek mountains.