Paulina's was named in honour of the original owner of the property, Paulina de Villiers.
She was one of the first lady landowners in South Africa and loved the land she tamed and planted. Paulina spent many years nurturing crops and working the same soils you see on the estate today. To pay respect to Paulina, and the land, the restaurant team is supporting local producers and farmers, just the way Paulina would have.
Paulina's is a culinary gem nestled amidst the breathtaking beauty of the Franschhoek Valley. With a charming and rustic ambience, this restaurant is the perfect setting to indulge in a memorable dining experience. Paulina's offers a menu that celebrates the bountiful flavours of the local produce, expertly crafted into dishes that tantalize the taste buds. Accompanied by a carefully curated wine list that showcases the award-winning wines of Rickety Bridge, a meal at Paulina's is a celebration of the senses. Whether you're a wine lover, a food enthusiast, or simply seeking a remarkable dining experience, Paulina's Restaurant is a must-visit destination.
Opening times: Monday - Sunday 10am - 6pm
Paulina's does not operate for dinner service however, exceptions can be made for group requests. Contact our functions department to receive more information.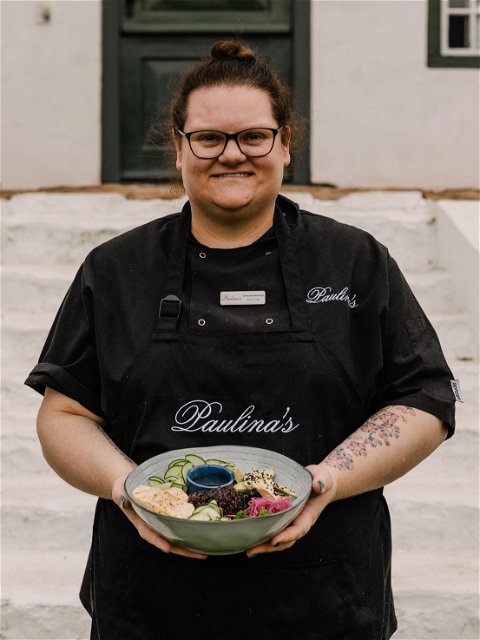 Meet the Chef
Linnèy Breytenbach
Growing up in South Africa, I discovered my passion for cooking during the traditional Sunday lunches that were a staple in many households. During holidays, my family would plan meals well in advance, spending hours every night preparing ingredients and cooking food. While time-consuming, these meals brought us together and created a special connection between family and food.
After completing my professional training at both Warwick's Chef Training School in Hermanus and the Prue Leith Culinary Institute, I gained valuable experience working for Creation Wines. Since then, I have enjoyed working in kitchens of all types, from bustling restaurants to events and weddings. Despite the fast-paced, high-pressure environment of the kitchen, I still find ways to add my own creative touch to each dish. What I love most about being a chef is working with fresh produce and discovering new ingredients to incorporate into my dishes.